Abode in the Sky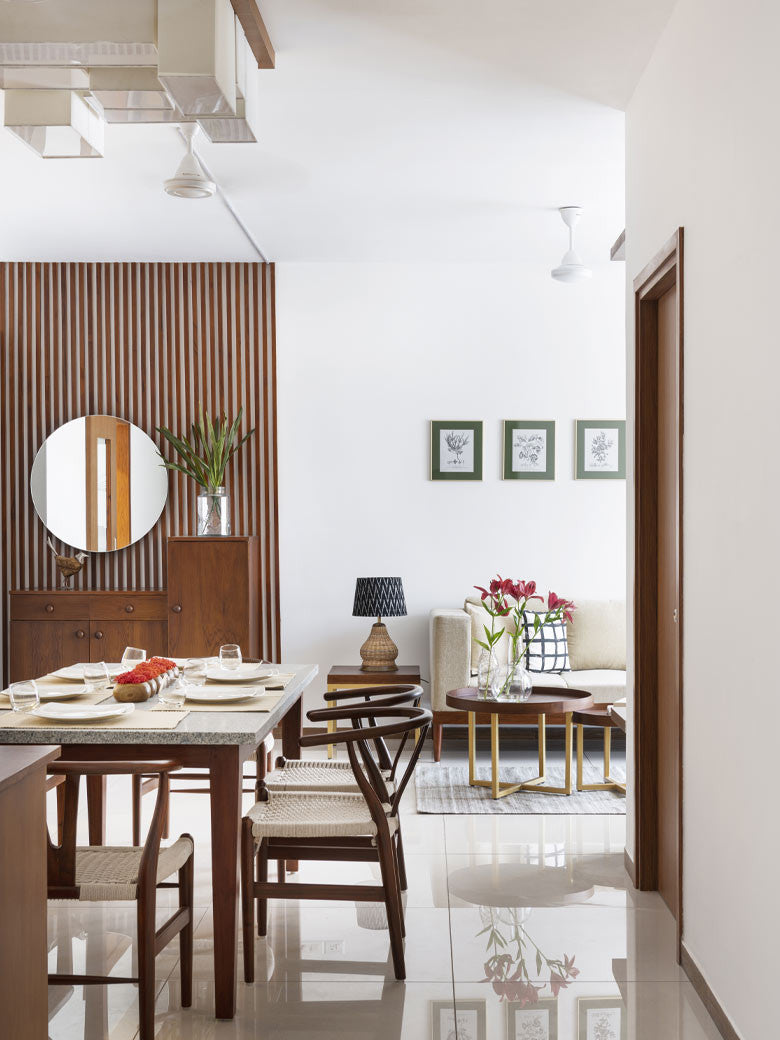 CRAFTED BY MEERA PYARELAL, THIS KERALA HOME REFLECTS A NEW AND MODERN INDIA
With this home, Meera Pyarelal perfects the narrative that is contemporary India
Meera Pyarelal of Temple Town designs homes that are sustainable in function with a strong Indian style to them. While we are used to seeing intricate wood carvings and artisanal crafts at the forefront of almost all her projects, this one is different. For this 1,800sqft home located in Thiruvananthapuram, Kerala, the interior and product designer, and founder of Temple Town responded to the strengths of the site. Talking about the brief and the design, Meera says, "The brief was clear: The owners, a young working couple with two children, wanted a contemporary and crisp interior. They wanted to unwind at the end of a long day. We interpreted that as the need to create an uncomplicated light and airy space. Once the brief was clear I wanted to keep things simple and clean. So, pale surfaces are mixed with colourful accessories, while natural materials introduce texture. We made sure to optimize space, as that is crucial when working in a small space."
Natural light is integral to the spatial experience of this home, designed by Meera Pyarelal of Temple Town.
Against a white background, Meera introducing sculptural pieces of furniture to make a poignant statement.
Meera layers whites, with browns and neutral tones for a effortlessly-stylish look.
Love this vignette!
Meera worked with contrasts for a tropical, nordic style. Soft shades of charcoal and chalk on the furnishings are teamed with rough granite and timber, while greenery against white walls gives life to this vision. One of the hallmarks of this home is the profusion of natural light. As this home measures 1,800sqft Meera wanted to play to the strengths and employ this sunlight filtration into the overall scheme of design. The plan was to create a fresh and airy space that distracted from the compact nature of the different areas. The designer explored a combination of pale-bright for the neutral colour scheme and played with texture and materiality to layer the home with dynamic details. She goes on to add, "For the living room, to create a style that resonated with nature, we used a lot of earthy tones to harness in that effortless vibe. Splashes of colour modernise this soothing narrative." In the dining area, Meera used classic pieces of furniture that never date. The table is a piece of natural granite and the chairs are replicas of Hans Wegner's Wishbone chairs.
For the dining area, Meera uses classic designs.
Inspired by the erstwhile and legandary designer, Hans Wegner, Meera crafts dining chairs that are replicas of his Wishbone Chairs.
Wood has been masterfully used to introduce depth, warmth and comfort to this otherwise neutral scape.
This is our favourite photographs from this home. It's clever how Meera pairs heavy patterns with reflective surfaces and warm tones.
Meera is very passionate about sustainable design habits. And this train of thought is obvious in this home too. She says, "The need of the hour is to create awareness among younger generations to reuse and recycle. We must understand, providing sustainable options does not mean compromising on your interior style choice or quality." And she proves that here in this home located in the Capital of God's own country. To create a sustainable address, Meera custom made the furniture with locally sourced teak wood. To add colour, she introduced a combination of artworks and accessories, and to further add more depth of detail, tactile designs in cane, natural stone and material were incorporated.
The kitchen reflects the spatial tonality of this home.
With the bathrooms, Meera infuses luxurious finishes for a luxe edge.
The pink bedroom, with a four-poster bed.
Black, white and comfort...the hallmarks that make up the design narrative of this old-world bedroom.
Modern and refreshing, this wood-infused bedroom space is lovely.
The function is crucial, particularly for this home. Pragmatic designs were the need of the hour. Built-in storage with a chameleon design was custom-designed to cater to the space. Meera was mindful that for this young family functional spaces should easily transition from family areas to stylish interiors. And with that emphasis on the design, she creates a home that accommodates needs along with the aesthetics of a dream home. The stage is set for a modern Indian home where earthy tones reflect the Indian narrative, while vivid and bright details, transforms this home into a modern residence.  

PHOTOGRAPHS JUSTIN SEBASTIAN

ABOUT THE DESIGNER
MEERA PYARELAL
Armed with a Masters in English literature, she discovered her love for interiors while doing up her own apartment way back in 1999. She decided to give it a try and set up a small unit in her husband's garage 20 years ago, giving wings to her creative side. After two decades of earning a name for herself in the interiors industry, she conceived her own brand — Temple Town — with the aim of designing and manufacturing sophisticated pieces of colonial furniture.